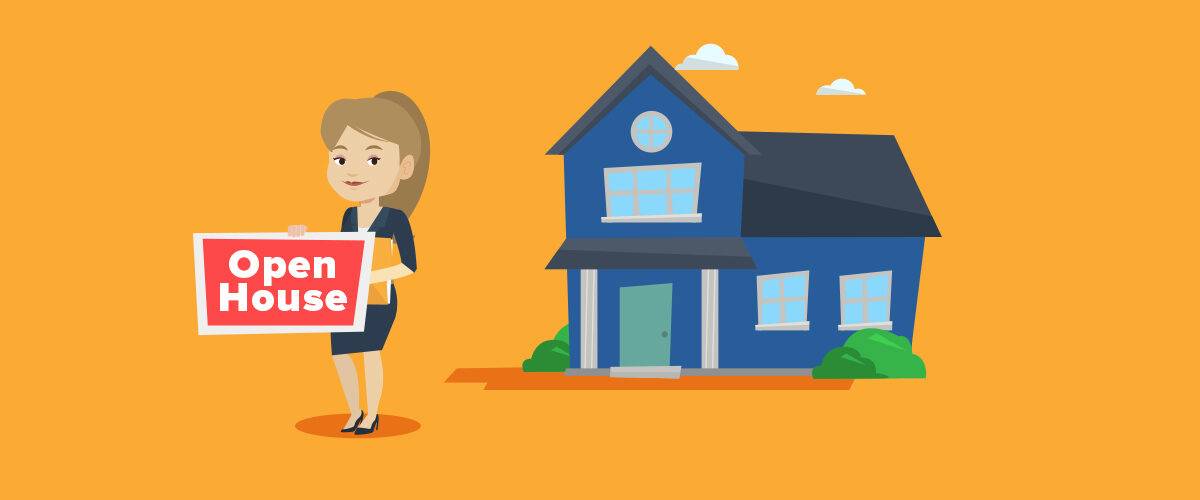 9 Digital Marketing Tips to Create a Killer Open House
Drive More Traffic to Your Open House and Turn it into a Fast Close
Digital marketing has revolutionized the art of the open house. But short of renting a drone to hover an open house banner over your next listing, here are 9 tried-and-true digital marketing methods that can help you drive more traffic to your event.
Run a Facebook Live Stream
Imagine a buyer across town sees your listing, loves the layout, the price and the location but can't make it to your open house. She may flag it for later review or even email you, but, soon, she's off to the next page view and your listing blurs in with the rest.
Now imagine that same buyer sees the same house on your Facebook Live video. She wants to know how big the master closets are, so you walk her through the master suite in real time on a virtual tour. She books an appointment to see the house in person. After the open house, you post your video on your site for additional engagement, and you get two more offers.
Social media has the power to connect your buyers with your listing in real time while multiplying your reach long after the last guest has left the house.
A virtual open house is a game-changer, especially when you factor in inclement weather, compressed sale durations and picky sellers who may be averse to hosting a flood of strangers into their home.
Tease with Video Email
If you're not comfortable with a live stream or you don't have a big social following, you can still capture buyers' attention with a video that you pre-record and directly embed into emails sent out prior to the open house. A video featuring a short tour of the house creates an inviting way to presell your prospects on the best attributes of the house.
Make sure you include the standard details too, including bedroom count and property size, along with the open house time, location and your contact information.
Capture Leads with a Digital Sign-In
Have you ever received a hot lead only to find out you missed the phone number or email due to a prospect's sloppy handwriting on the open house sign-in sheet? Create a great first impression by using a digital sign-in sheet on a mobile or laptop. Inform your guests that they'll receive email updates on the property when they sign into your event. Or team up with a local coffee shop and offer free coupons for those who sign-in.
Have Your Electronic Listing Form Ready and Waiting
Before the first guest arrives, make sure you have your listing form already created with all of the pertinent documents that prospects and agents will want to see, including seller disclosures, list of seller home improvements, upgrades with monetary value and dates, lead-based paint disclosure and a lender payment flier with different financial products, including first-home buyer products.
That way, you can simply create individual folders within the form for each buyer who makes an offer onsite. The process takes only a few clicks and instantly puts the prospect in touch with all the information they need while their interest is hot.
For those who don't make an offer, you can upload an open house contacts document into the listing form to help facilitate follow-up.
You can also sync all your data to your Google Suite, including Google Calendar, where you can set a task for a follow-up meeting for second showings.
Time It to Drive Traffic
Veteran agents and brokers know that a crowded open house only stirs a sense of urgency among buyers. Sydney-based Real agent Evan Basheer finds one great way to drive traffic is to make the listing active on a Thursday, block all showings Thursday and Friday, then host your open house on Saturday.
"This forces more buyer traffic to your open house," she says. "The strategy has proven effective time and again as we've sold homes in 15 minutes, five hours and one day in communities with an average of 80 days on market."
Many agents also report receiving higher-grossing offers by simply inviting the neighbours.
Make Your Listing Searchable for Other Agents
Buying agents can link their electronic forms to yours for submitting offers. Once a listing is linked, the buying agent will be added to your electronic forms and you to theirs for sharing. Once they share an offer with you, a new folder will appear in the platform with their offer documents. To ensure your privacy, the agent making the offer will only see the listing information and your email address.
Agent can also use the public link that allows any buying agent to easily find their listings and all of its associated documents. You can share the link directly with agents or post them on social media or the MLS. It is a great way to ensure the privacy of your form, giving you complete control over what the buying agent sees while avoiding duplicate forms for your listing.
Further, you can send the link directly via email or text Messenger, which usually is a free, full-service, in-app texting feature that improves client response time and gives you real-time notifications as soon as a client takes action.
Virtually Stage Every Room
There are several apps on market allow virtual staging of the home's interior in a variety of décor styles. If a homebuyer can visualize the space in a décor style more in line with their wants and needs, they're more inclined to engage.
After the guests leave, email the images that resonated most. Or, better yet, text them the staging images and listing information. Even if you offer digital staging options, you might also print out old-school floor plans of each room with measurements to help buyers envision their furniture placement.
Cross-Market with Service Providers
It's not just for managing the home sell transaction. Once you have an offer, you can always find a great way to share contacts and full-sheet information, including mortgage lenders, home warranty insurers, movers and contractors, with interested buyers.
In return, you might ask your mortgage lending partners who pre-qualify clients to share your open house listings with their prospective buyers. The collaboration within the end-to-end platform brings all parties together, making the share-out of information easy and seamless.
Create a Single Property Website
Remember, most open house attendees are visiting several houses, making the recall of each property's features and location a bit of a memory game. To help your listing stand out from the crowd, create a single property website with multiple photos of the house. Then, hand each guest a flier with a short URL link or QR code linking to the site once they leave the house.