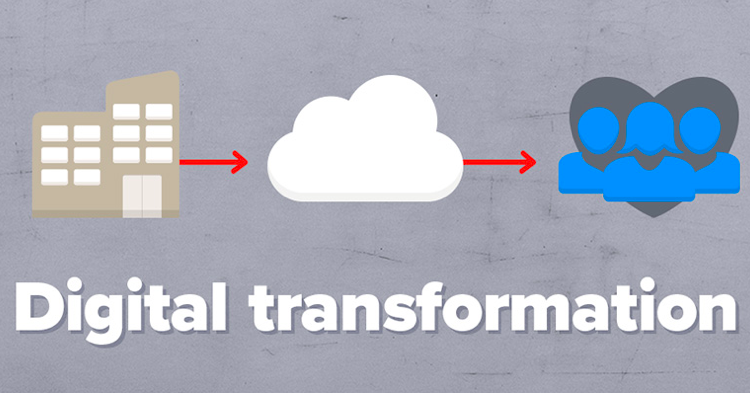 How digital transformation can grow your agency
Integral to growth and building a scalable agency, digital technologies are at the heart of any future business strategy. But, as the owner of a real estate agency, how can you take advantage of these technologies and what are the benefits of digital transformation for your agency?
Digital transformation has turned human life on its head in the last 20 years. And though some industries were quick to embrace the change, real estate has been much slower to shift its business model to a digital one. However, digital technology is at the heart of the buildings of the future, something already evident in commercial real estate where connected, networked buildings are in high demand – optimising space and resources, reducing operating expenses, improving occupant experience, attracting and retaining tenants, and allowing buildings to constantly adapt to the needs of all stakeholders.
A recent paper from JLL exploring the top 10 trends in real estate has shown that digital transformation is top of the list for 2017. Why? Because real estate agency principals and property business owners are now realising that harnessing digital technologies is essential to growing a business.
What is digital transformation?
One major step in digital transformation is making use of cloud-based software and storage. Rather than use on-site servers to store all information, businesses choose to store their data in the cloud – a network of secure servers connected via the Internet. Centralising information and software off-site allows a reduction in costs, freeing up the capital expense of servers and IT hardware to invest into operational expenses.Put simply, digital transformation is about evolving your agency to be more software driven; where the focus shifts from investment to information. By digitising your workflow and systems, your business is scalable, information is managed and communicated effectively, and processes are streamlined. Going beyond just updating customer-focused technology, companies take on an end-to-end digital transformation establishing digital processes throughout every facet of the business.
As well as the cloud, digital transformation also involves the shift to smarter buildings and workspaces, using Internet of Things (IoT) to connect smart devices to share, collect and exchange data. You might already be halfway there – think iPads, smartphones and laptops, all running the same software that share information.
"Digital transformation is about evolving your agency to be more software driven; where the focus shifts from investment to information."
The benefits of digital transformation
With a greater drive for collaboration, productivity and cost-effective solutions, digital transformation brings a myriad of benefits for your agency.
Empowers agents. Providing better connectivity for staff when they are out of the office, digital technology gives agents greater flexibility, enabling them to spend more time doing what they do best… selling.
Streamlines workflow. By automating tasks, agents are freed from day-to-day administration tasks to spend their time talking with clients and chasing sales.
Improves customer experience. Providing clients with instant feedback and constant connection, digital systems offer peace of mind and security for the user.
Virtual collaboration. Digital technology allows instant access to third-party providers such as marketing, designers and creatives.
Innovation. With automatic upgrades and affordable cutting-edge features, you are technologically always better off.
Virtual communication. The physical presence of a real estate agent is no longer essential, with virtual meetings, video calls and conference calls.
Scalable. With scalable operations, agencies are no longer confined to region or size. These technologies allow new offices and remote agents to operate, all using the same established software and processes.
Cost savings. Removing the high cost of in-house IT and reducing staff headcount, you receive the same quality of services that big businesses get at the fraction of the cost.
"Digital technology gives agents greater flexibility, enabling them to spend more time doing what they do best… selling."
Introducing digital technologies to your agency
Digital technologies can be integrated into almost every area of a real estate agency workflow.
Marketing: Streamline your marketing campaigns with software such as CAMPAIGNxpress, a cloud-based system that enables business owners to automate artwork production and third party collaboration whilst maintaining brand consistency across a network of users.
Sales: Track leads, share information and streamline with a cloud-based CRM. There are many applications designed specifically for the property sector.
Accounting: Often one of the first areas businesses choose to shift to a cloud-based platform, most popular is Xero.
Document management: Speeding up paperwork processes, software such as DocuSign or PEXA digitally transform the property exchange process.
Prospecting: Software such as Smartlist from CoreLogic uses data and analytics to identify patterns in the market, saving time and reducing the need for cold calling.
Whether you are just starting your digital transformation journey, or are already masters of your cloud-based enterprise, embracing digital technologies is critical to growth, and we will see digital technologies increasingly become the cornerstone for agencies ­– large and small. With wellbeing of employees and empowerment of customers also increasingly integral to business success, we'll also see this digital transformation encompass improved workspaces, smarter workflows, greater transparency and connectivity, more cost-effective solutions. All which work towards changing bottom lines.