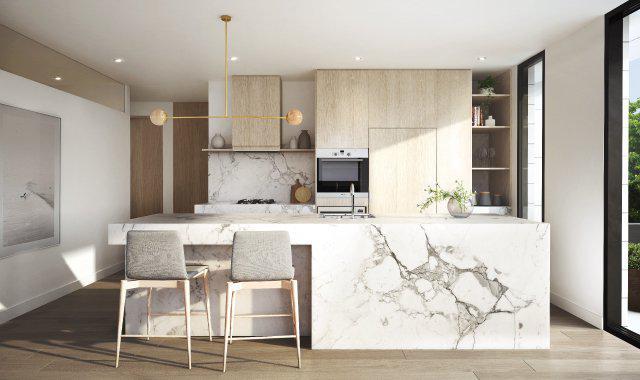 How Off-The-Plan Property Marketing Is Rapidly Changing As The Target Market Shifts From Investors To Local Owner-Occupiers.
Kitchen CGI for the HEDGELEY HOUSE marketing campaign by Scharp

New laws in Victoria are set to abolish stamp duty savings for off-the-plan property – with exceptions for first home buyers – from July 1st, 2017.

The Victorian government is also proposing a 'vacant property tax' for residential properties left vacant for over six months.

In NSW, the government is getting on board by considering laws to restrict the overseas investor market. So Sydney could follow suit with Melbourne by potentially seeing the same shift in target market from investor to owner-occupier.

Malcolm Schapel, Managing Director of property marketing studio Scharp, has been in the game long enough to note the changing trends in the industry. Malcolm started Scharp in 1999 and has steadily grown the business into one of the market leaders with studios in Melbourne and Sydney.

"Sales of off-the-plan apartments in Melbourne are rapidly changing from an investor focused market to a local owner-occupier market," says Schapel. We are seeing a new shift in planning laws and government policy that is making it difficult for property investment to stack up.

"All this change makes property developers very nervous about upcoming sales of off-the-plan apartments, even though there is still a housing shortage."
Touchscreen Display for WESTSIDE marketing campaign by Scharp
How does this affect the future of the off-the-plan multi-residential market?

Our experience in Melbourne over the last year is one of developers changing their residential proposals to target local owner-occupiers. Apartments now are designed with larger floor areas, upmarket finishes and specifications to suit the owner-occupier.

You have a situation where young professional couples or small families often can't afford the increasing cost of house prices. They are looking towards apartments as the cheaper alternative to a first home. We also see empty nesters cashing in their valuable family homes and downsizing to apartments or townhouses for easy maintenance living.

Property type mixes are clearly shifting. We see a move away from predominately 1-2-bedroom investment pads, to larger 2 and 3 bedroom apartments with more bathrooms and car spaces.
Townhouse Section CGI for MANHATTAN TERRACES marketing campaign by Scharp
On larger development sites, townhouses and SOHOs (Single Office/Home Office) are becoming more prominent in the property mix alongside apartments.

In the inner city to middle suburbs, townhouses are a highly sought-after, more affordable product. They are also becoming the linchpin in helping to sell residential products on larger sites.


When the townhouses sell out quickly, interested buyers are then led to the next offering of apartments.

What demands are Owner-Occupiers putting on the developers?

Developers are on the back foot in this target market shift, with owner-occupiers being much more demanding than investors.

Options for interiors are the next big thing in capturing the interest of this sophisticated, designer-orientated buyer. Customization is going further than the typical light-and-dark scheme options usually aimed at the investor market.

Now, it's becoming a mix-and-match approach to optioning joinery, appliances, flooring, fixtures and fittings.

Going further, sometimes two or more apartments are joined together to create the owner's 'dream apartment'. Modern construction methods make this relatively easy and cost effective, and architects and developers are quickly finding ways to absorb the cost or charge slight additional fees for these types of alterations.

In this current market, it's better to be flexible and more attractive to the buyer than the next development so you are confident of selling your apartments.

How is property marketing changing to keep up with the demands of the owner-occupier?

New technology, such as Virtual Reality (VR) goggles, is making a huge impression on younger buyers whilst the older market often prefers the traditional printed sales book to discuss their needs. What's clear is that the digital revolution is allowing developers to bring apartments to life for potential buyers in a way print can't.
iPad App and CGI for THE HUNTER marketing campaign by Scharp
We are seeing iPad applications mirrored using Apple TV for large screen appeal, and together with touchscreens are being used more and more in sales display suites.

They are now a definite must-have on larger development sites to make things easy for the buyer to understand. Digital applications and touchscreens use interactivity for choice, allowing a buyer to visualise all their options at the touch of a finger.

It can be difficult to clearly show the amount of current options in printed material, such as sales books, and even more difficult to make updates. When you update digital collateral, you simply upload the updated version at little cost compared to re-printing the collateral.

What makes Scharp stand out?

The digital sales' sphere is growing so rapidly it is hard for developers to recognise the good technology from the bad.

Scharp has been designing and coding various formats of digital collateral in house for over 15 years, including 3D CGIs (Computer Generated Images), fly-through animations, movies, websites, apps, touchscreens and VR.

Together with our brand and print design experience, we provide a holistic, one-company creative solution for property marketing. Our delivery of projects throughout Australia shines through with real-world applications that produce results.

We have a keen interest in developing iPad and VR Apps into the future as technology advances in quality and resolution. iPads are getting bigger – the current largest Pro is 12.9 inches – and now are being used instead of printed sales books.

VR technology is growing fast and becoming more accepted every day. We are certainly seeing a big shift towards the digital sphere in property marketing and sales.
Scharp Showreel 2017
Where to from here?
As the market moves more into the owner-occupier realm, developers need to be more savvy, or their developments will falter.

The first step is to recognise that the market is indeed changing. Once the developer embraces this trend, the next step is to determine what strategies are key to selling their product.

Finding the right blend of emerging technologies and combining them with a strong, knowledge and awareness will make the development stand out from the competition.